MRMPO Planning Area: *NEW: Click here to learn about Metropolitan Planning Organizations!

What
is the MRMPO?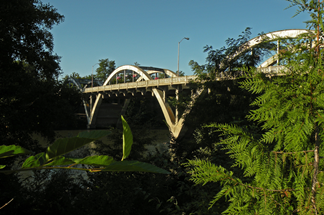 The Federal Transportation Act requires each urbanized area with a population of 50,000 or more to set up a Metropolitan Planning Organization (MPO), to assure a continuing, comprehensive, and cooperative ("3C") transportation planning process. Additionally, Oregon administrative rules define an MPO as "the organization designated by the Governor to coordinate transportation planning in an urbanized area of the state."
This includes developing the area's long-range transportation plan (RTP), which addresses the region's projects, programs and policies for at least a 20-year period. It also includes maintaining the Metropolitan Transportation Improvement Program (MTIP), which is a short-range document listing transportation projects to be built.
Introduction to the MRMPO
With an estimated population of 50,520, the Middle Rogue Metropolitan Planning Organization (MRMPO) includes the cities of Gold Hill, Grants Pass, Rogue River, and adjacent parts of Josephine and Jackson Counties which are anticipated to become urbanized over the 20 year planning horizon. The Rogue Valley Council of Governments (RVCOG) serves as the MPO for the Middle Rogue area. The MPO Policy Committee, the organization's decision-making board, consists of elected officials from the member cities, Josephine and Jackson Counties, and the Oregon Department of Transportation (ODOT).
MRMPO DRAFT UNIFIED PLANNING WORK PROGRAM POSTED FOR PUBLIC REVIEW AND COMMENT
The Unified Planning Work Program (UPWP) is the proposed program budget for the upcoming Fiscal Year (July 1, 2018 through June 30, 2019). This document outlines what initiatives the Middle Rogue MPO intends to pursue during FY 2018-19, the funding associated with those efforts, and any final documents that may result from those efforts.
It is anticipated that the draft document will be finalized when the Policy Committee adopts the FY 2018-19 UPWP on Thursday, April 19, 2018.